"Working in the trenches with women from all walks of life has shown me time and again that women will roll up their sleeves and do the personal work necessary to achieve their goals. Collectively these empowered women reflect the beauty and wisdom that only comes from spiritual and physical transformation.
​
​My life's mission has been to share the insights I've gained within my own healing journey. I've navigated endometriosis and infertility to mother two children and transition into a balanced menopause. With my intuition and 20+ years of clinical experience, I guide women through uncertainty and self-doubt to greater confidence and well-being. As more women learn how to transform their emotions and tap into the frequency of higher consciousness, their entire community benefits.
​
​Let's begin your journey today!"
Dr. ​Danica Thornberry, L.Ac. DAOM
Doctor of Acupuncture & Oriental Medicine
Specializing in Women's Reproductive Health
Working with Dr. Danica Thornberry
Telemedicine Consultations
Weaving elements of intuition into the practical science of women's health, Danica offers clients her experience as an acupuncturist and doctor of women's reproductive health, creating a holistic approach to fertility that addresses the mind-body and spirit.

​Each virtual telemedicine session includes manageable suggestions, empowering guidance and a thorough assessment of your particular challenges. Together, we'll figure out what's holding you back and design a step-by-step plan for your success.
"I came across a fertility doctor who came very highly recommended, Dr. Kelly Baek, and she said to me the day I met her - 'I don't know what this woman does, but so many pregnant women come out of The Seed Fertility Program that Danica created. All I can tell you is go, do this program, and do it to a T…"
- Erin Foster, The Worlds First Podcast
Acupuncture
As one of the first fertility acupuncturists in the U.S., Danica has treated thousands of female patients and trained colleagues in the use of acupuncture for holistic women's health. Currently, she is promoting the gifted team of practitioners at her Well Women Acupuncture office in Los Angeles, CA. where she now supervises and oversees challenging fertility cases. The Well Women Acupuncture team interacts with some of the best fertility specialists, gynecologists and obstetricians in Los Angeles. While Danica's in a supervisor role, the Well Women Acupuncture practitioners are providing in-clinic acupuncture services, as well as booking outcall sessions for embryo transfers.
Book Your Acupuncture Session
Herbal Medicine
In addition to your Telemedicine Coaching or acupuncture session, personalized custom herbal prescriptions can be prepared to augment your course of treatment. Following your consultation and assessment, formulas containing quality-tested Chinese herbs as concentrated, granulated powder are crafted and shipped to your home or prepared for in-person pickup at the time of your acupuncture session at Well Women Acupuncture.

These blends combine time-tested classic formulas from Chinese pharmacopeia, modified for the needs of modern women with the goal of hormone balance and optimal health. Pricing for custom herbal formulations includes the cost of your assessment.
The cost of your 10-day supply of customized herbal medicine is additional.
Book Herbal 20-Min Consultation - $100
"The greatest thing I learned from Danica and her Seed Program is the way perfectionism played such a big role in my life. Canceled cycles taught me that I can't 
force
 my body to be more fertile, and Seed helped me to accept that…finally. The nutritional aspect was huge for me, but Danica shares so much more and teaches women how to eat certain foods depending on where you are in your cycle. Incorporating the right foods at the right times put me in tune with my body; which naturally made me feel more fertile instead of "In-fertile" like I have felt for two years. Thank God for Danica and SeedFertility!"
​
- Diane W. 41, New York, NY
"Danica has cracked the code to women's fertility! Using acupuncture, spiritual counseling, and dietary changes, Danica is able to redirect a woman's focus and energy to empower them towards conception."
- Dr. Guy Ringler
Stick It To Me, Baby! Book
An Empowering Collection of Women's Fertility Stories
In this work, esteemed acupuncturist, spiritual healer, and fertility specialist Danica Thornberry examines the powerful role of spirit in the infertility struggle, sharing some of her favorite inspirational stories to reveal how she combines science and spirit to help women open their hearts and transform their wombs.
Get Your Copy Now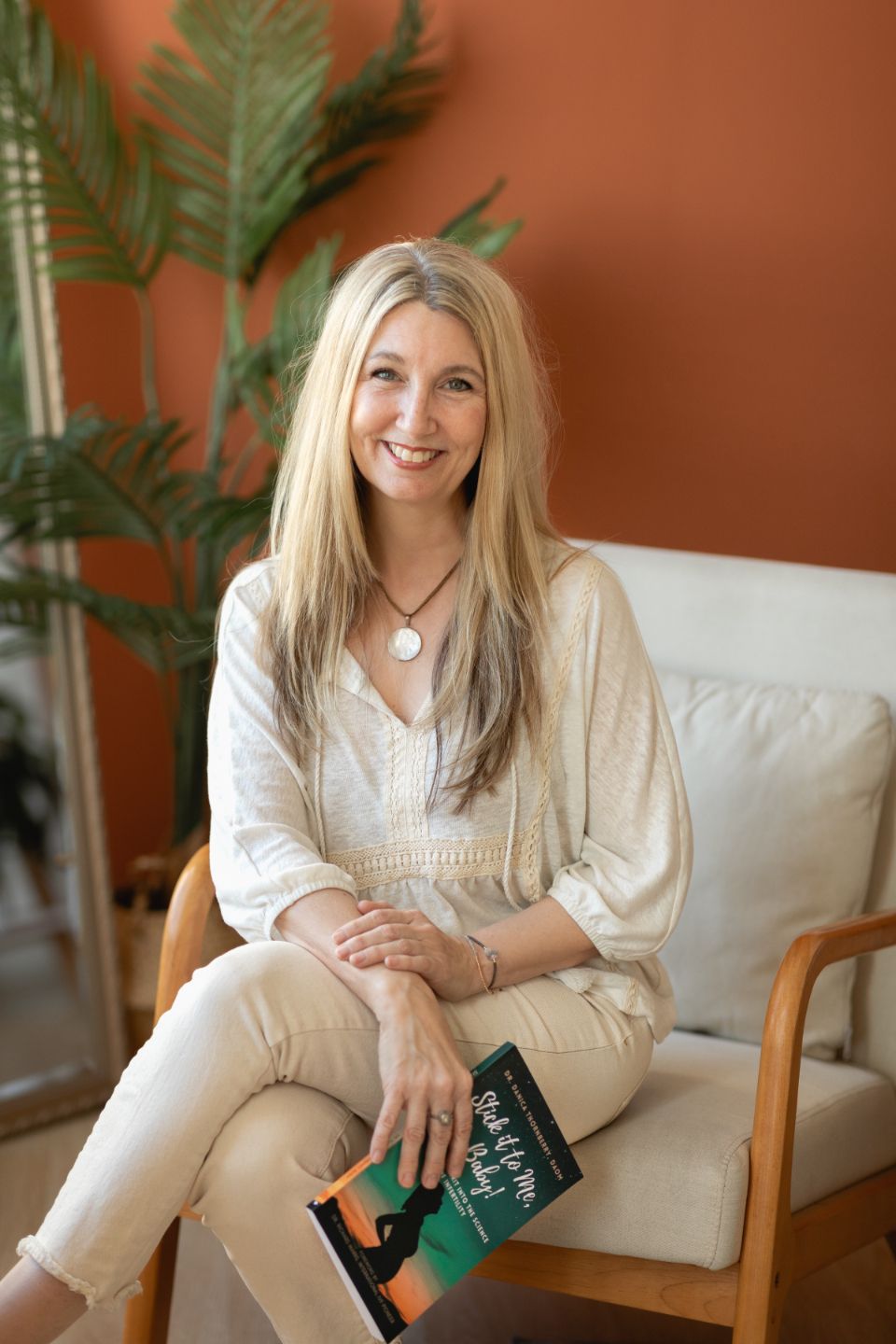 "Danica's wisdom, humor, lightness, and brilliant ability to reframe every disappointment is what keeps me working with her through the years and during the various "phases" of womanhood."
- Susan W. 47, Ojai, CA
Speaking Engagements
Dr. Danica's speaking topics include:
All Women's Health Conditions
Fertility Treatment
EnergyWork
Guided Imagery/Meditation
Grief Work or Emotional Healing
Contact her directly to arrange podcasts and summit interviews, book signings, women's fertility events or seminars, TEDx or health conference lectures. 
A selection of Dr. Danica Thornberry's prerecorded Continuing Education (CEU) courses can be found at: 
https://healthyseminars.com/bio/danica-thornberry
Speaking Engagement Inquiries
About Dr. Danica Thornberry
Danica Thornberry is an author, educator, and fertility acupuncturist in Los Angeles who has worked extensively with fertility patients for over 20 years. Her unparalleled success comes from teaching patients how to rebuild their Fertile Confidence. Danica's online fertility intervention (SeedFertility.com) provides women around the world with supportive, holistic tools to reframe the arduous journey to baby.
Her Seed Fertility Program methodology has been clinically tested and is endorsed by leading fertility specialists in the U.S. for its empowering daily guidance and reframing perspective that's been used successfully by thousands of women to overcome monumental fertility challenges.
When she's not working with patients, Danica enjoys writing, teaching, and spending time with her friends. She's the mother of two teenage children, both conceived naturally despite her own complicated history of endometriosis, a blocked fallopian tube, elevated FSH, and premature ovarian failure. In each session, she provides her clients with unique, firsthand experiences about moving through infertility and perimenopause.